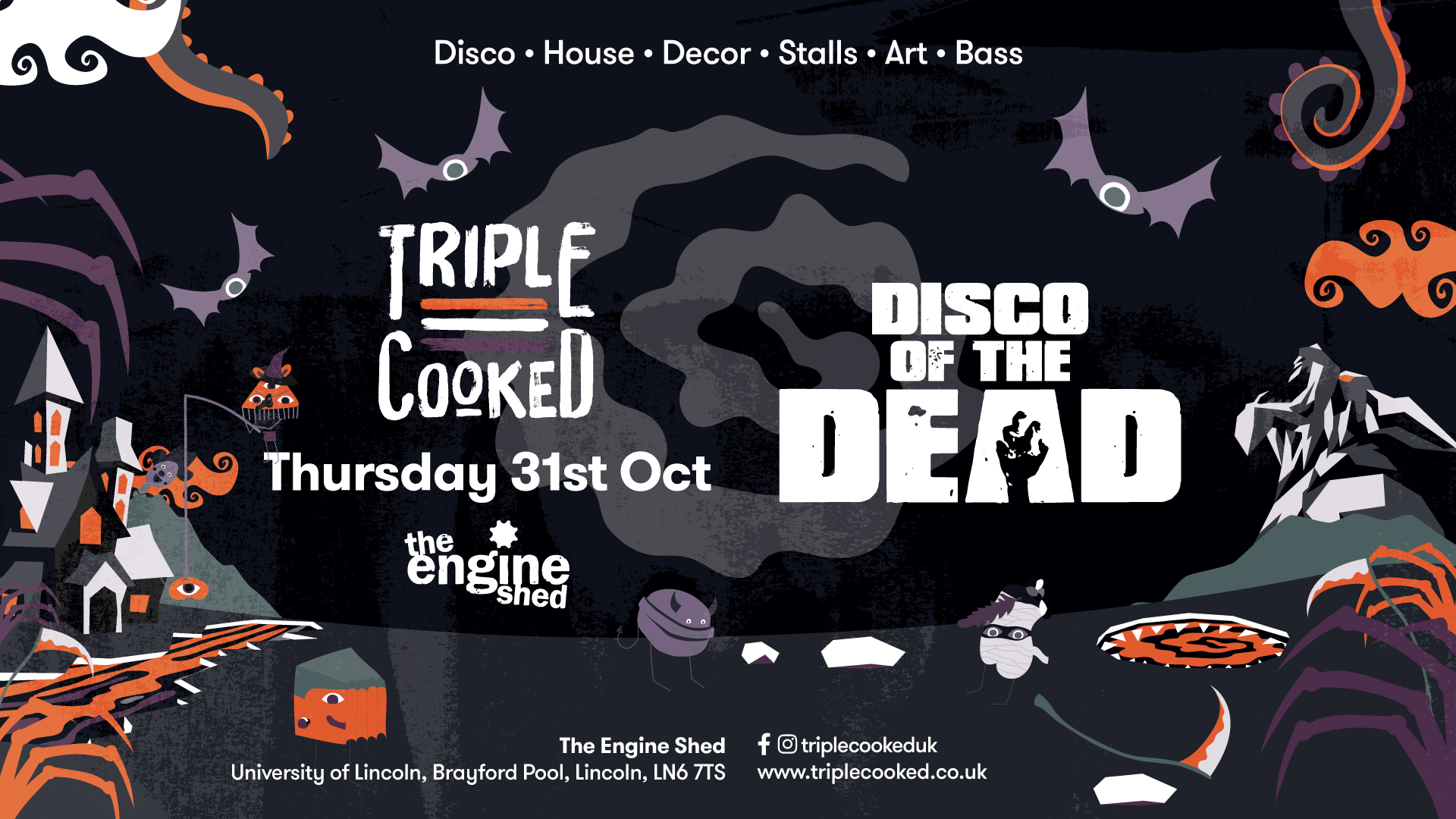 There isn't a more perfect setting for a true Triple Cooked-style monster mash. We're making our debut in Lincoln for a frightful night full of disco, house, bass, tech and more for our scariest show of the year… trick or treat?
---
𝐕𝐞𝐧𝐮𝐞 𝐓𝐫𝐚𝐧𝐬𝐟𝐨𝐫𝐦𝐚𝐭𝐢𝐨𝐧: 
We bring our creative show to The Engine Shed this Halloween, we transform each space with a bespoke stage design custom-built for Halloween with unique hanging art installations & frightening decor to completely immerse you for the scariest night of the year! 
𝐌𝐮𝐬𝐢𝐜:
From festivals around the UK & abroad our Triple Cooked residents take your on a journey through the best Disco, House, Tech & Bass! 
𝐋𝐢𝐯𝐞 𝐌𝐮𝐬𝐢𝐜:
From buskers in the smoking area to live percussionists, expect a host of performers throughout the night in the most unusual locations! 𝐅𝐨𝐨𝐝:Local street food vendors will be providing the best independent snacks to keep you partying all night. Our Triple Cooked goblins will be serving us free candy floss to tasty sweets all night! 
𝐇𝐚𝐥𝐥𝐨𝐰𝐞𝐞𝐧 𝐎𝐮𝐭𝐟𝐢𝐭𝐬 
Halloween threads essential, the more creative the better. 
BIRTHDAYS —Celebrating a spooky birthday? For a free birthday package, text "BDAY" to 07807 503666… They won't bite!